Tēna koutou YEP whānau,
Greetings from Katikati and finally the arrival of spring.
It is extraordinary that through this COVID period, YEP has not only survived — when many other programmes haven't — but has also continued to grow. I believe it's because of the strength and expertise within our extended YEP whānau; the generosity and kindness within our networks; our commitment to create and deliver quality programmes (even when this is hard work and tick box versions have emerged as competitors); and most importantly our strong belief in the value and importance in what we are doing.
Jono Craig from Central Hawke's Bay asked me recently what would be a good whakataukī for rangatahi beginning YEP. I asked my colleague, Will Flavell, and he suggested one that I think is perfect: "Mā te huruhuru, ka rere te manu." (With wings, the bird can fly.)
I think the same can be said of all our programmes. We need to get the architecture right, then weave in the function (i.e. the systems and processes); get some training and support; and then, at some point, take a leap of faith and launch.

Our annual hui this year was awesome. I loved that every time we did an activity, the noise was deafening. It was great to hear from all the regions, both those that have been running for many years and those just getting a foothold into the mahi and aiming to launch in the new year. The presenters were amazing, their presentations relevant and filled with rich info. I think it worked well bringing in outside speakers in addition to the high-quality presentations from within our own whānau. We are always looking to improve, however, so any suggestions for 2023 would be really appreciated. Big thanks once again to everyone involved.

Youthtown are now gearing up for the handover early next year. Unfortunately, several of their staff have suffered health complications recently, so they will be postponing any further visits around the regions until early in the new year. Chris Davidson will contact you about this in due course.
This is my last newsletter. Thanks to you all for the invaluable work you do and for all your support over the last six years. It's been an incredible journey. This is an end of one chapter and a beginning of another for me. Next year I'm getting married and I'm re-positioning myself into coaching and training — my two passions.
And yes, for those of you who have not met Robert, he is my Swiss hubby-to-be — and you are absolutely right, that's his maunga, the Matterhorn.
Warmest, Shirley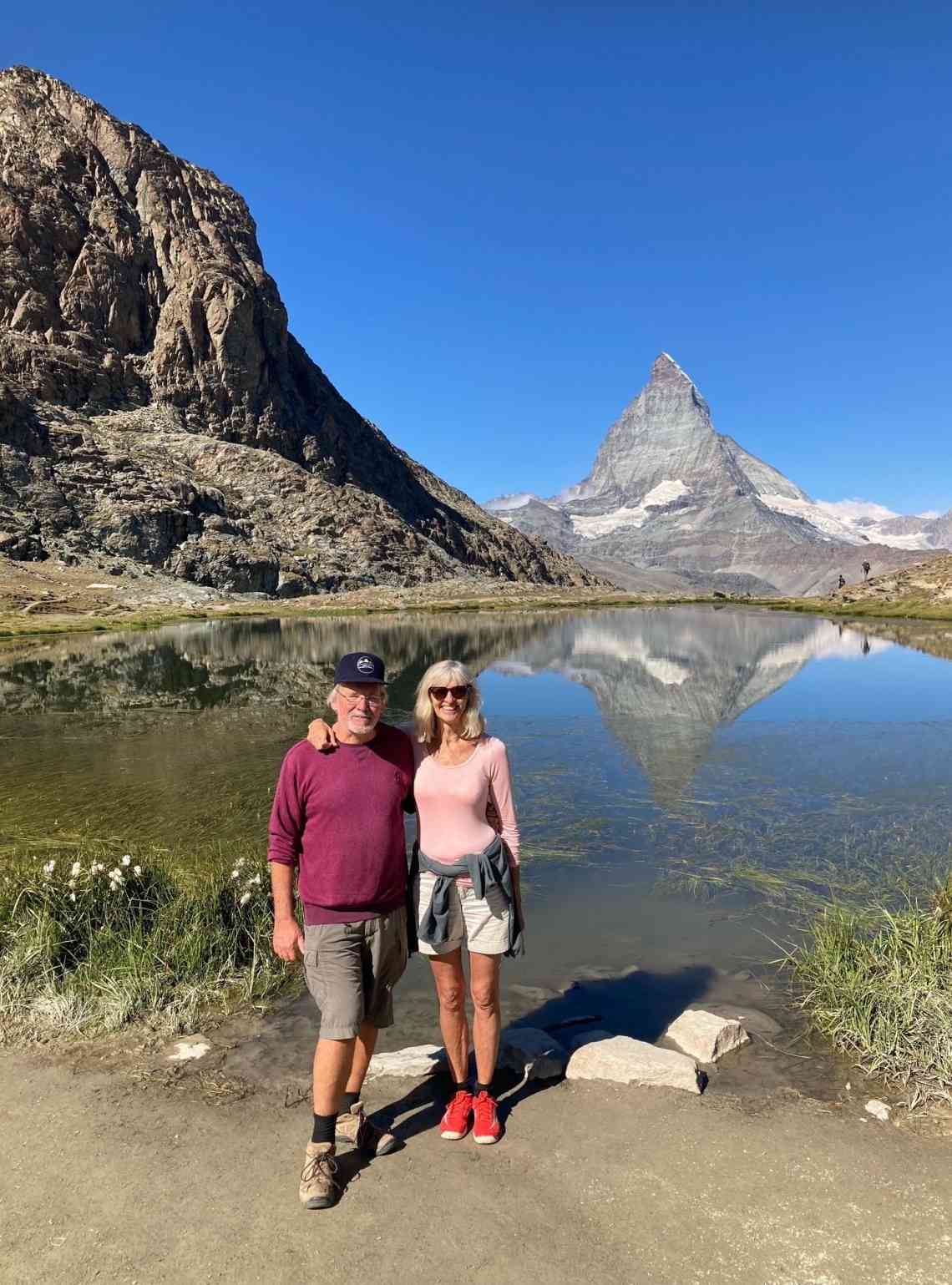 YEP THEORY OF CHANGE
Our 2022 User Guide includes the addition of a Theory of Change for the Youth Employability Programme. This document was created by Chris Davidson from Youthtown, with support from the University of Auckland and in consultation with and design support from Te Hononga Akoranga COMET.
A Theory of Change is a roadmap that illustrates why an initiative (inputs and activities) will lead to an intended result or output. In our case, it helps us articulate and communicate how change can occur for our rangatahi, clearly linking what we deliver to the desired outcomes. It is also a valuable step in reviewing and improving our evaluation methods by clearly identifying indicators and measures that can inform the continuous improvement cycle.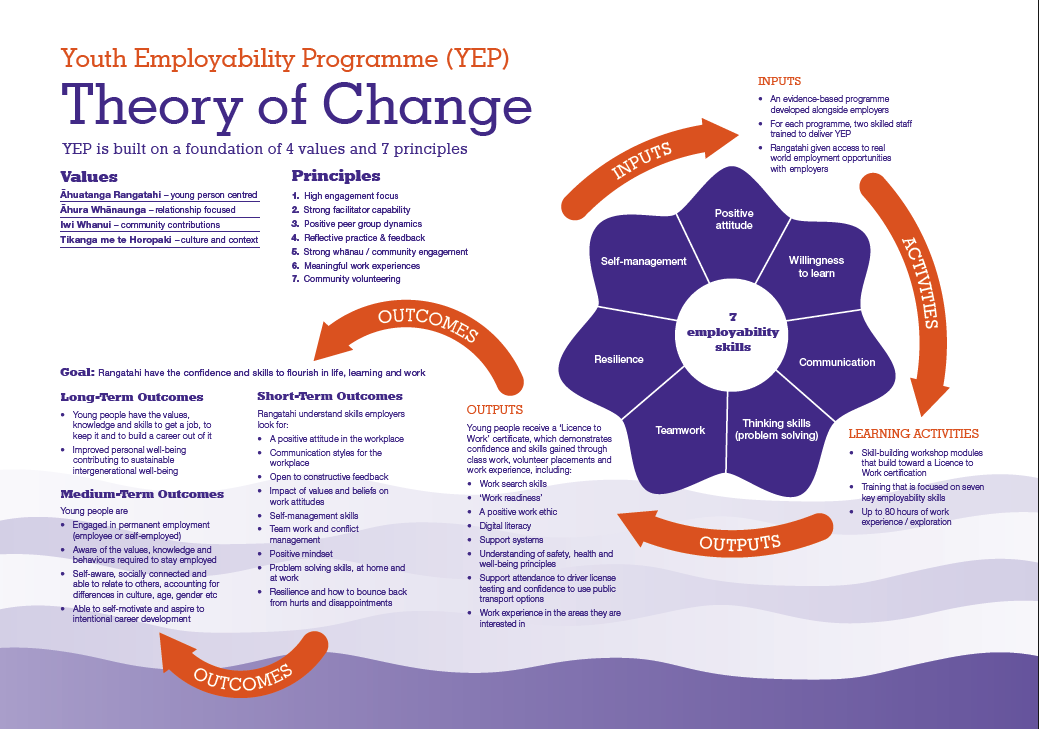 If you have any questions regarding the diagram, please feel free to contact Chris at Youthtown.
FEEDBACK FROM THE ANNUAL HUI WORKSHOP SESSION (SEPTEMBER 2022)
There was some fantastic feedback gathered during our annual hui workshop session. Topics with actions included:

Support and networking
Training and development
Reputation
Resources and information
Rangatahi
Sustainability, data and social change
Connecting with other services and businesses
Developing other programmes
For detail on feedback discussion and actions please click here.
MARCHING TO A NEW BEAT — SPOTLIGHT ON MTFJ TEAM IN TE KUITI
At the beginning of 2022, Joel and Deeanna Bradley joined the team at Number Twelve in Te Kūiti to work on the Mayor's Task Force for Jobs. They were recently joined by Autahi Rehua-Brock. All three previously served in the New Zealand Army and now bring their wealth of experience and knowledge to support the rangatahi of Te Kūiti. They share their stories and some of the reflections they have on their first year with Number Twelve.
To read their full insights, please click here.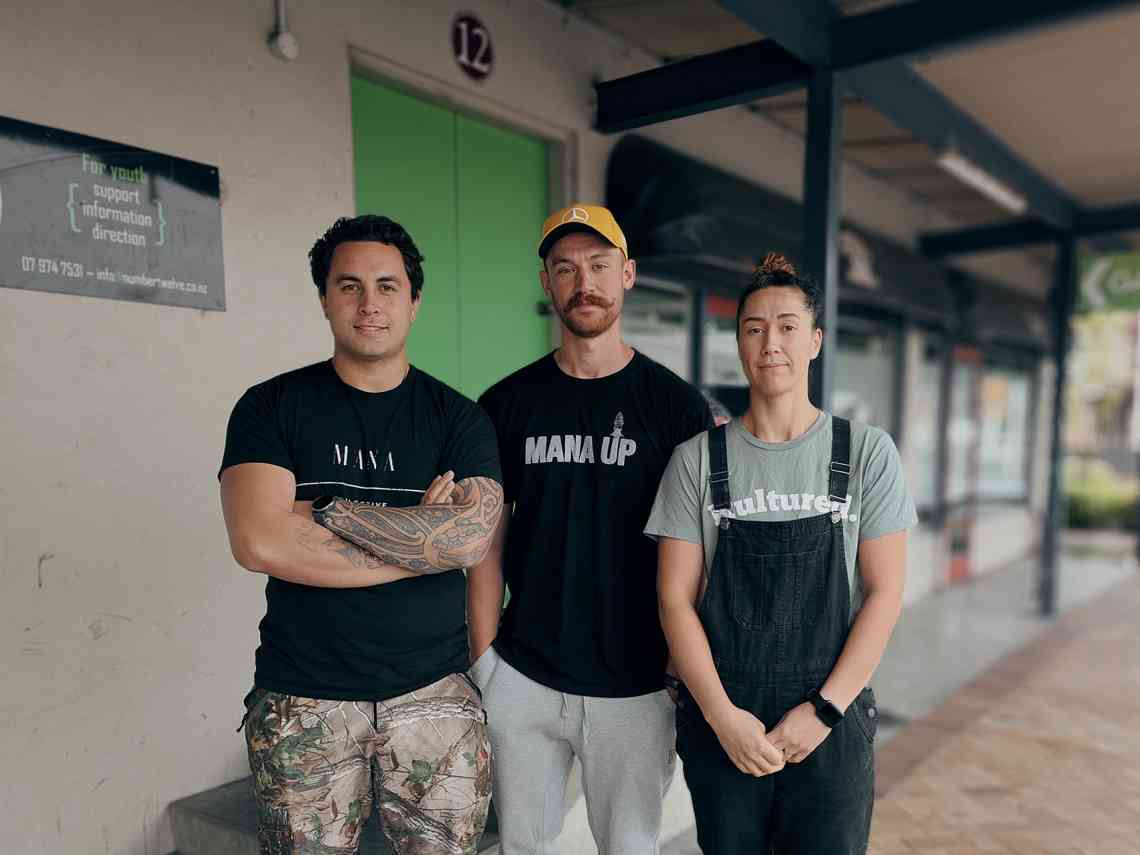 MEASURING THE SOCIAL VALUE OF YEP PROGRAMME IN 2020

Youthtown recently contracted ImpactLab to measure and assess the social value of the YEP programmes that were delivered in Auckland during 2020.
The team at ImpactLab help organisations do good, better, by working with them to understand the organisation's social impact. ImpactLab's team combine hard data with the human stories to determine social impact. Using their GoodMeasure tool, they apply a consistent measurement framework across the organisations they evaluate to enable fair comparison of social impact. ImpactLab quantify the social impact in dollar terms that a programme achieves for participants over their lifetime, this is called the social value. To view the report, please click here.
YOUTH EMPLOYABILITY WĀNANGA

Rosie Poharama-Hepi has been working Youth Employability Facilitator for Te Hā o Mātauranga in Kaikōura. She has given us an insight into her recent delivery of Youth Employment Wānanga before she heads off to start her degree in te reo Māori.
"In order to deliver to our cohort effectively, I had to make some changes to the YEP for the delivery of the programme. It still was an incredibly valuable experience for our cohort of wāhine. Our first day, we had we had a fun day of rafting the Waiautoa with seven wāhine. Whilst we were on the river, we talked about different wildlife that live there, some history, and we got to talk to the guides and listen to the stories of their journey on their pathways. When we got to the base of the river, we had kai on the beach and built pā.
"Whilst in their pā, the wāhine thought about the different things they needed to thrive in their community and how they would protect and serve it. It was an exercise they enjoyed, thinking about what their future could look like.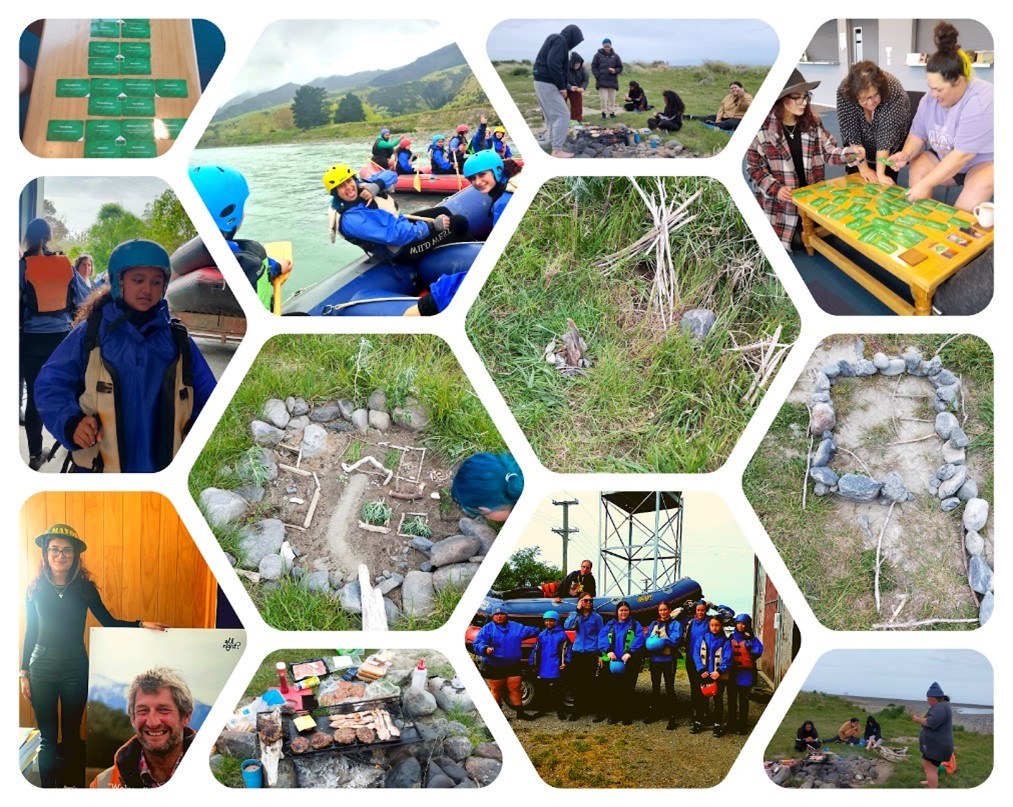 "On our second day, the wāhine discussed values and what values we use when dealing with challenging situations, We did the Gallup strength finding survey, and the participants were coached through ways to utilize their strengths.
"We ended the day with a visit to the Kaikōura District Council, where six wāhine from different departments — including council, ECAN, the library and museum — talked about their roles and their journeys. We also got a tour of the building and heard from the council CEO. Our participants all spoke about how 'eye-opening' this day was for them."
Mā te wā,
Rosie