At the beginning of 2022, Joel and Deeanna Bradley joined the team at Number Twelve in Te Kūiti to work on the Mayor's Task Force for Jobs. They were recently joined by Autahi Rehua-Brock. All three previously served in the New Zealand Army and now bring their wealth of experience and knowledge to support the rangatahi of Te Kūiti. They share their stories and some of the reflections they have on their first year with Number Twelve.
Joel was born and bred in Te Kūiti, and Deeanna moved there as a teenager. They left Te Kūiti together to join the army (by way of a short time in the navy for Deeanna). Joel's army career took him around the world with the infantry, while Deeanna juggled work as an army chef and being a mum to their three children. Throughout their lives, both had always been passionate about working with young people. After leaving the army, they moved to Auckland in 2021. There Joel was posted to the Youth Unit running the Service Academy, where he worked with rangatahi delivering leadership and adventure courses – at one point taking 130 students into the bush for a week. Deeanna became an instructor on LSV courses, which teach life and motivational skills to unemployed young people.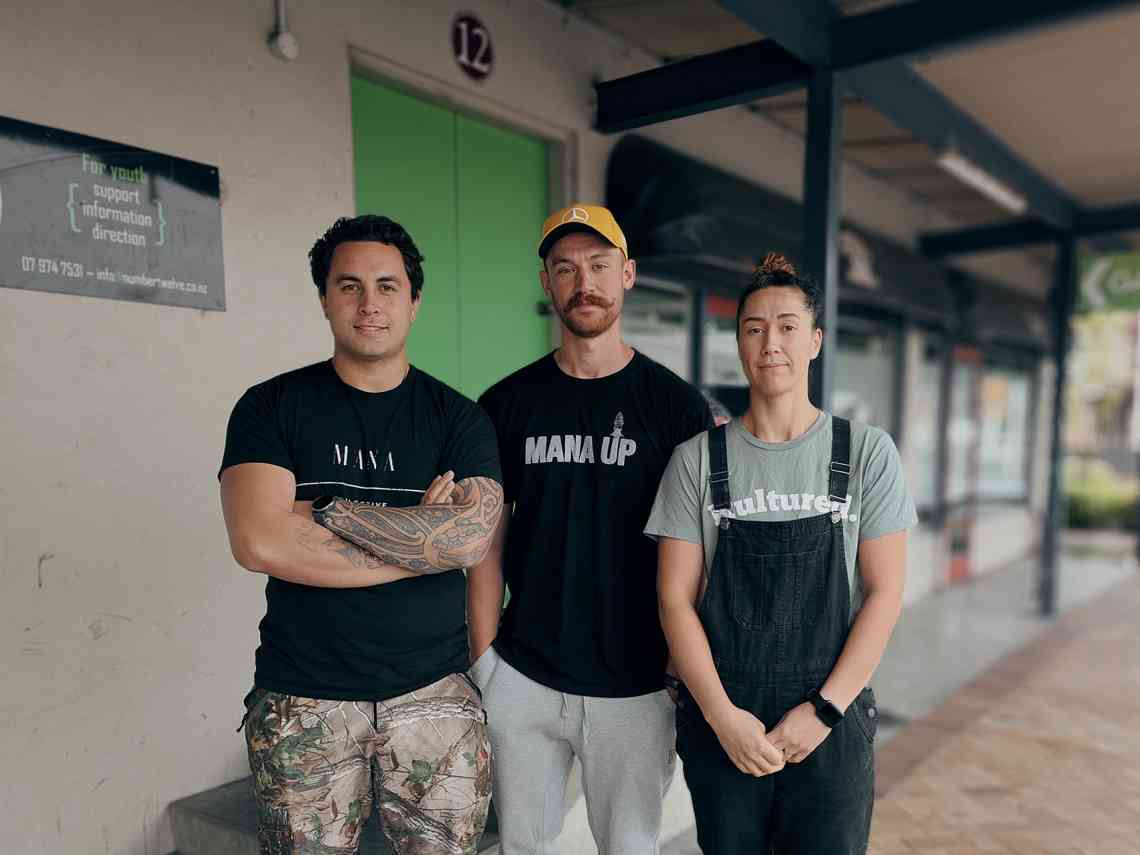 This experience working directly with young people and seeing first hand the changes they could make, combined with a desire to move home, saw the couple relocating back to Te Kūiti and starting work for Number Twelve.
Autahi Rehua-Brock spent a lot of his time in Te Kūiti growing up. He studied for a Bachelor of Māori Pacific Development before joining the army. He ended up as a PT instructor, working with a lot of the young new recruits and being involved in community events. He decided to leave the army earlier this year and was working in a gym prior to moving to Number Twelve.
All three feel that the skills and experience they gained in the army has been hugely beneficial to them, and they are keen to share these experiences and knowledge with the youth of Te Kūiti. They are all passionate about helping the local young people to find their own paths and are supportive of rangatahi fulfilling their larger dreams. They all feel it can be a positive experience for young people to move out of their local region, learn new skills and then bring back a new perspective and skills if they move back — something that all three have done.
In their roles at Number Twelve, they are supporting young people to write CVs, understand the skills they have and ultimately find a job. They understand the importance of working at the pace of the young person — walking alongside them, sometimes at a slower pace than the team are used to. Each young person brings a different set of challenges, but they know the rangatahi come to Number Twelve because they need help.
The experience each of them gained in the army, getting to know people from a huge range of backgrounds, has provided the team with the skills to connect with the rangatahi. Joel says the army gave him "an understanding that you don't know people and that you can't jump to conclusions about someone, as you don't know how good they can be with the right opportunities. They may see themselves as worthless, but if you guide them in the right way, they can become successful. Just because you may not be good at English and maths, if you find the right thing, you can have a huge career." It's this attitude that is already driving success for the team.
The team's combined experience also brings real credibility, and they find their army background is often a conversation starter, especially for the young men they work with. Deeanna's experience juggling work and whānau commitments also connects with young parents who may be questioning if it's worth going back to work.

They have each found the challenge of working in a less structured environment interesting. In the military, when they said they were going to do something, they had to do it or there would consequences. The experience of young people not turning up to booked appointments was initially hard to understand as it was embedded in them through their military training, but they now know they must work with them to support rangatahi to find ways out of their situation and create opportunities.
The issue of yearly delivery contracts has also been a challenge — trying to deliver on the contract at the same time as collating evidence and applying for the next year's funding. They have a very experienced team behind them at Number Twelve, but all would like to see 2- or 3-year contracts where they can fully concentrate on delivering the best outcomes, rather than worrying about next year's funding.
From the 1st of July, the team have helped 23 rangatahi into work, and they have another 40 young people that they are working with to prepare for placement opportunities. The word is also getting out within Te Kūiti about the programme. They have placed 6 young people with one employer, and he is keen to take on more. They have also had young people approach them looking to get into the programme as they have had friends who gained placements.
Their highlights so far have been the moment when a young person sees success within themselves — e.g. when they have completed a CV for the first time or they are looking at career pathways that they didn't feel was possible previously. They love seeing the progression: one young man had a dream to join the New Zealand Army, so the team coached him through the process while placing him into work, so he would have an income. He has since passed all his assessments and will join the army in February.
In twelve months' time, the team would like to see the programme going from strength to strength. They will also start to incorporate YEP and deliver it in three schools next year, one of which will be delivered in Te Reo, facilitated by Autahi.
Ultimately, they just want to help get as many young people in to work as they can and are ardent supporters of the young people in Te Kūiti.