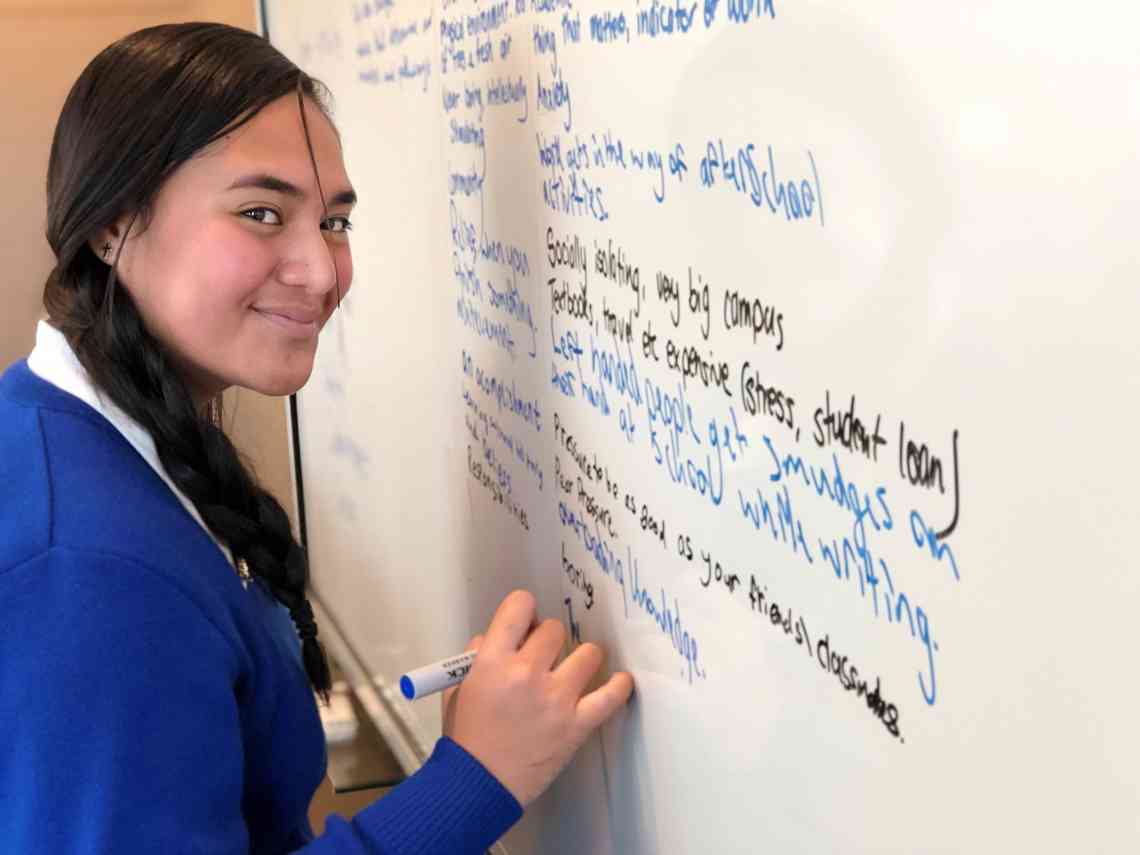 One of the highlights of my work is the opportunity I sometimes get to hear young people's views on what they'd like to see change for their education and their lives, and then support them to share those views to inform decision-makers. Over the years, our youth voice work has included:

Student Voice Magazine (formerly Learning Auckland Magazine), in partnership with Geoff Vause, editor of Education Today — sharing the views of primary, intermediate, secondary and tertiary students on the things that affect their learning.

A consultation with rangatahi Māori from a range of backgrounds, culminating in them presenting to the TMEF and at the ULearn conference.

Interviewing young Māori about what they want from their teachers and communicating those messages through an annual lecture to initial teacher education classes.

Interviews with diverse primary and intermediate students about what they like and what they'd like to change about school, shared via a snapshot and on social media.

Whakarongo ki te Reo Mātātahi — supporting young Māori learners to write a book about things they value and things they'd like to change in their local area.
Listening to children and young people is important for many reasons, but three in particular stand out for me: to inform our collective decision-making, to build our nation's future leaders, and to support learners' wellbeing.

INFORMING DECISION-MAKING
If we want a city and an education system that truly put children and young people first, it makes sense to pay attention to what they see as important and to the changes that would make a difference for them; yet educators, policy-makers and city councils are alike in having very few effective ways to hear the views of the children and young people they seek to serve.
Some of the issues that young people have raised with us and with other organisations' youth consultations (for example the ground-breaking Education Matters to Me from the Office of the Commissioner for Children, and the recent ERO report on Embracing Diverse Ethnicities):
The reality and impact of racism at school — not just from other students, but sadly also from teachers

The need for schools to take greater action to address bullying

Concern about issues they see in their community — from vaping and obesity to the prevalence of liquor outlets near schools

The importance of seeing their culture and language recognised, celebrated and used in school

Wanting to have a say in their education and their life choices
In 2013, we invited a senior official from the Ministry of Education to attend a meeting of the student editors' group of LA magazine (now Student Voice magazine). The official described the then-new National Standards policy. The students asked lots of searching questions and had some solid suggestions on the policy. At the end of the session, the official admitted this was the first time anyone in the Ministry had talked to students about the National Standards policy, yet by then, the policy was fully developed and about to be implemented.
BUILDING FUTURE LEADERS
If we want to grow engaged citizens who will make a difference in their communities and nation, we need to ensure that children and young people understand how change can come about; build skills in identifying changes they want to see and influencing action towards those changes; and, most importantly, that they learn from experience that they can make a difference in their world.
Youth voice initiatives give students real opportunities to have a say in their communities and in their education. They also provide authentic contexts for learning — students are writing or speaking to a real audience about issues that are important to them, so they are highly motivated to get their point across effectively, and they often get real-world feedback on whether their point has hit home.
In 2018, a year 6 student from our Student Voice magazine group decided to work on a story about the housing crisis. We had done some work in our sessions on how to plan, conduct, record and write up an interview. Most students interviewed their classmates and teachers. This student decided to do more.

Her mother recalls being in the kitchen when she saw her daughter on the phone, arranging a meeting with someone. After the call, she asked her daughter to whom she had been talking.

The answer? Phil Twyford, then Minister of Housing. The student went on to confidently conduct and write up the in-person interview, producing a very powerful and well-structured article on a topic that was top of mind in the news and also directly affecting many of her classmates at the time.
SUPPORTING WELLBEING
When young people feel invisible — like none of the adults around them really care about them or take them seriously — it can have a significant impact on their wellbeing.
One of the most common things young people say about their experience in youth voice activities is that they feel listened to because we take their views seriously. It is sad that for most students, even the most articulate ones, that's an unusual situation.
The heading of this article is a direct quote from a student who had been involved with one of our youth voice initiatives. Asked what they learned from their involvement, they said:
"1. You can be yourself. 2. Students have a voice. 3. We can stand up for our rights."

As educators, we need to constantly remember that just by asking young people for their opinion, and then really listening to and engaging with the answers, we can show them that they matter as people, which is powerful learning for anyone.

Ngā mihi mahana,
Susan Warren
Chief Executive