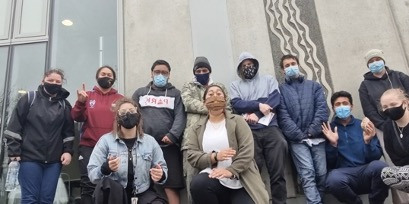 Youth Inspire students
I'm Alilia Parker one of the Youth Advisors at Youth Inspire in Lower Hutt. We started our 14 week Youth Employability Programme four weeks ago, working with rangatahi aged between 17 – 24 years old.
Right now we are preparing for work experience, getting interview clothing, creating and preparing CVs and developing skills that will give our young people the confidence to nail their work experience interview! Our work experience options have been changeable, with some businesses struggling to survive and others desperate for staff.
We are incredibly lucky to have some great business partners that have continued to provide opportunities in retail, customer service, construction, infrastructure, manufacturing, warehousing, animal care and hospitality. The current candidate shortage has created a positive opportunity for us and our rangatahi.
More and more employers are looking at how they attract youth into their workforce, as well as providing a supportive environment, mentorship and pathways that elevate the potential of our rangatahi into sustainable careers.

We have been super impressed with our rangatahi showing how responsible they are, letting us know when they are affected by Covid, asking for advice and support with testing and guidelines. Other support we have provided these rangatahi is vaccination support, dropping off rapid antigen tests, referring them to COVID support providers who have organised free food, cleaning products and medicine to help ease some of the stress they experience during isolation.
This has (and continues to) affect attendance at our programme. Many of our rangatahi have had to isolate at home during programme. To keep them engaged we have delivered online group sessions and tasked them with activities to complete before our one-to-one phone catch ups. This is not our preferred method of engaging with our rangatahi, however we just do what is needed, so we can support our young people. Luckily we have previously delivered our programme online during lockdown so we can adapt easily with online learning material.
I am excited for the changes that are happening in the workforce and see our rangathai realising their potential with the support of progressive employers.